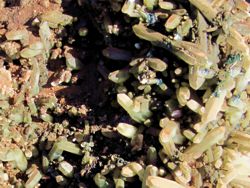 Quartz, Biggenden, Queensland (45cm). Donated by Harold McCamby. (MHM specimen #47)
---
Minerals Heritage Museum
Display location:
Queensland Museum
Southbank, Brisbane, Queensland, Australia
(Mezzanine Floor)
Display Hours:
Open daily from 9.30am - 5.00pm. Closed Good Friday, Christmas Day & Boxing Day. Open ANZAC Day from 1.30 pm.
General admission: Free.
---
Help us to grow
MHM donor list
How to donate
Help us to grow
MHM donor list
How to donate
The museum is keen to grow its collection via donations of specimens or funding, and we have had a number of substantial donations in the past from both individuals, companies and organisations.
Donating to our museum is a simple way for mining companies to give back to the community. Specimens discovered during operations are often not saved from destruction, and by preserving those unusual or rare pieces, you are providing a tangible and appreciated benefit to the community at little cost to your company. Providing access to a knowledgeable mineral collector when a new find is made is also of benefit, as rare or unusual minerals often go unnoticed by companies, and we have the skills to preserve these special pieces.
If you would like to donate to our museum, please contact the curator, Tony Forsyth, in the first instance to discuss your donation or how you can assist us.
| | |
| --- | --- |
| Email: | mineral@gil.com.au |
| Mobile: | 0419 661 962 |
| Postal: | PO Box 6362 Upper Mount Gravatt 4122, Queensland |
The Mineralogical Society of Queensland Heritage Museum has been accepted as a public museum by the Australian Taxation Office in terms of sub-paragraph 78 (1) (a) (XXVll) of the Income Tax Assessment Act. In terms of this approval gifts of $2 and upwards to the museum are allowable deductions to donors for income tax purposes. The museum is also an eligible recipient institution for the purposes of the Cultural Gifts Program. Taxation deductions under these schemes require the donor meeting criteria set under the Act, but the curator can supply relevant information.
Collectors are really only custodians of their collections during their lifetime, but the minerals and crystals themselves may live on into eternity - as long as they are properly looked after. Deceased estates of collectors can be a problem for families who don't know what to do with loved ones treasured specimens. Donating them to the MHM is one way that you can help. Not all collections are of great value, or have rare pieces, but we can impartially appraise or point you in the direction of someone who can
Government schemes available
If you wish to investigate how you could donate to our museum in return for tax concessions, these websites contain full details on the government schemes available.