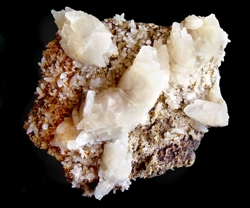 Calcite, Biggenden, Queensland (35cm). Donated by Harold McCamby. (MHM specimen #44)
---
Minerals Heritage Museum
Display location:
Queensland Museum
Southbank, Brisbane, Queensland, Australia
(Mezzanine Floor)
Display Hours:
Open daily from 9.30am - 5.00pm. Closed Good Friday, Christmas Day & Boxing Day. Open ANZAC Day from 1.30 pm.
General admission: Free.
---
Help us to grow
MHM donor list
How to donate
Help us to grow
MHM donor list
How to donate
Without our generous donors there would be no Minerals Heritage Museum. Since our inception many individuals and companies have seen fit to donate either funding or specimens to our cause and we would like to acknowledge their contributions here.
Other individuals have helped us by placing high quality specimens on permanent loan to our museum. We thank each and every one of you. Special mention must be made of Enertrade who donated many of our wonderful display cabinets. Our long term Trustee, Bob Bryan from Brisbane, and Roger Staley from Perth who donated their entire collections under the Cultural Gifts Program, and form the major portion of the collection species content, as well as many fine pieces. Jacki Young made an extensive donation of fine specimens from the personal collection of her husband, the late Ron Young, personal display collection. George Stacey, from ACT, has added many fine specimens. Caleb Yue has also generously donated many specimens and also has a number on permanent loan in our display.
We are always open to individuals and companies who would share our vision. The mining boom in Queensland and Australia has meant a huge growth in the industry that is not always seen as something good though the public eye. By donating to us you can show a commitment to preserving Australia's mineral heritage. Visit the How to donate webpage to find out how.
Our donors: (Individual) (Organisation)
| | | |
| --- | --- | --- |
| Arco Coal Aust Pty Ltd | Mineralogical Society of Qld | |
| Beads & Crystals | Niugini Mining | |
| B K Minerals | Kevin Olzard | |
| Ted and Thelma Barker | Queensland Museum | |
| Bob Bryan | QCT Resources Limited | |
| Christine's Gem World | Pan Australian Mining Ltd | |
| Cooloola Rocks and Minerals | Mr S Pugh | |
| Daddows Rock Shop | Mr A Ransom | |
| Enertrade | Sandfire Resources | |
| Exotic Gems & Minerals P/L | George Stacey | |
| Tony Forsyth | Roger Staley | |
| Gympie Eldorado Gold Mines P/L | Bob Taylor | |
| Jim Harrison | The Rock Shop (Brisbane) | |
| Henderson Charlton Ltd | John Walton | |
| Hogg Lawson & Co | Les Weale | |
| Keela-Wee Exploration Ltd | Ron Wilding | |
| Harold McCamby | Sue Wearden | |
| Magellan Metals | Jacki Young | |
| Dehne McLaughlin | Ron Young | |
| MIM Holdings Ltd | Caleb Yue | |