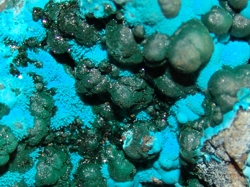 Chrysocolla and malachite.
---
Minerals Heritage Museum
Display location:
Queensland Museum
Southbank, Brisbane, Queensland, Australia
(Mezzanine Floor)
Display Hours:
Open daily from 9.30am - 5.00pm. Closed Good Friday, Christmas Day & Boxing Day. Open ANZAC Day from 1.30 pm.
General admission: Free.
---
About the museum
History of the MHM
Aims of the MHM
The MHM Trustees
About the museum
History of the MHM
Aims of the MHM
The MHM Trustees
This brief history of the Minerals Heritage Museum was written by Ron Young, a driving force behind the MHM in 2009. Knowing that he had a terminal illness, Ron put pen to paper to record how the museum was created. Ron passed away in August 2010. Here are Ron's words.
Brief History of the MHM - 2009

The Mineralogical Society of Queensland (MinSocQ) was founded during the first half of 1986. Around that time, its first president, Jim Harrison, was discussing with our mutual friend and MinSocQ member, the late Diane Stacey, the fact that the display of minerals in the Queensland Museum was not particularly satisfactory. Further, it seemed likely that the Queensland Museum's mineral specimens would soon be shipped to Mt Isa.

As a result, Jim proposed that MinSocQ should establish its own museum, and Diane agreed. At the next MinSocQ meeting, the idea was put to members, who agreed unanimously with the proposal. After some discussion, it was agreed that I should be responsible for 'getting the museum going'.


Ron Young, the first curator, and a driving force behind the Minerals Heritage Museum.
The purpose of the museum was to collect and display fine mineral specimens to the public, as most people (unless involved in lapidary clubs etc.) are entirely unaware of the existence of the beautiful treasures that occur in the earth's crust. Neither MinSocQ's Management Committee nor I had any idea as to how this endeavour would end up. However, I decided to 'go for broke' and try for a proper government approved museum.

Without going into the minutiae of the ongoing saga, I will record only that I visited the Australian Taxation Office (ATO) on many occasions and showed them a great many fine mineral specimens and explained that the Mineralogical Society of Queensland wanted to establish a museum for the purpose of collecting, housing and exhibiting to the public a selection of these rare and beautiful wonders of nature. I explained that the conservation of these treasures is at least as important as the conservation of man-made treasures because the naturally occurring specimens cannot be duplicated or re-created.

As well as the numerous personal visits to the ATO, there was extensive correspondence concerning the establishment of our museum. The ATO eventually decided that it might be possible to establish a museum but it would need to have a 'home', and a physical address.

. . . . continued (pdf content)